Welcome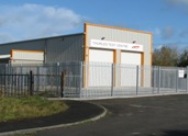 Thurles Test Centre is a Commercial Vehicle, D.O.E. Testing Facility based in Archerstown Inductrial Estate, Thurles, Co. Tipperary.
We cater for all Commercial Vehicles from Vans, Light Trucks & 4 x 4's, to the Heaviest Trucks /Buses etc.
Our testing facility has two light vehicle testing bays and two heavy goods vehicle (HGV) bays. All of our testing bays are fitted with the very latest in computerised testing equipment.
Our team of experienced technicians will be more than happy to answer any questions you may have, before and after the test. Relax in our waiting area while your test in completed.
Book your test now, phone 0504 26472
or email: info@thurlestestcentre.ie